Mozilla Thunderbird is my favorite email program. Both for the fantastic addons available and for the effective Junk filtering.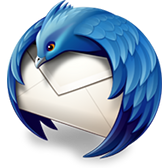 One of the features that I really like is the Quick Filter Toolbar. This quickly filters emails by sender, subject or even body contents.
The junk mail tools keep the spam out of the inbox. And they learn as you go along. Pretty soon its extremely accurate.
So turn your inbox from a chore into a delight and switch to Thunderbird.