I recently encountered this error. My client uses Pastel Partner v14 and Pastel Payroll. They were unable to open these programs over the network. Sage Pastel uses Pervasive as the database.
So I searched the web for the error. Apparently its a permission error. Pervasive clients can not access the licence information. (registration.dat). I also found a document which had some solutions.
Having checked the firewall settings and resharing and remapping the network drives, I was faced with their last solution: uninstall and reinstall all the Pastel programs. I was not sure I had all the programs and updates available to reinstall. I decided to continue troubleshooting…
I found that restarting the pervasive service fixed the problem. Until reboot. I emailed this additional information to Pastel, thinking it might prompt them to suggest something else. They replied with some other things I could try. I tried, but still had error 94.
I then changed the service startup type from "Automatic" to "Automatic (delayed start)". That makes windows wait 20 seconds before starting the service. Rebooted and guess what: no error 94.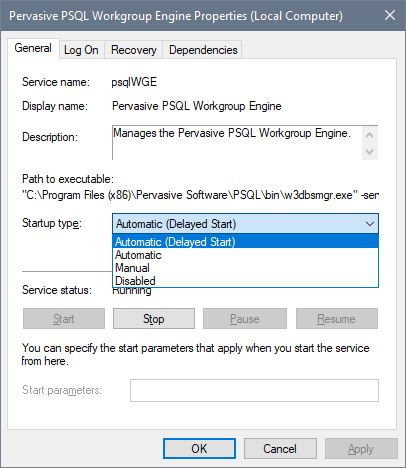 It seems that the service was starting too early. Delaying the start allowed something to happen in the correct sequence, and avoid the permission problem and clients are back to work.
About my clients hardware and software:
Both the Pastel/Payroll server and clients were running Windows 10 Pro 64 bit (with all updates)
The Pastel products were Sage Pastel Partner v14.0.0.7 and Pastel Payroll & HR v3.0.0.116
The Pervasive version was v10.30.17.0
Their network is a peer to peer network, no Windows server